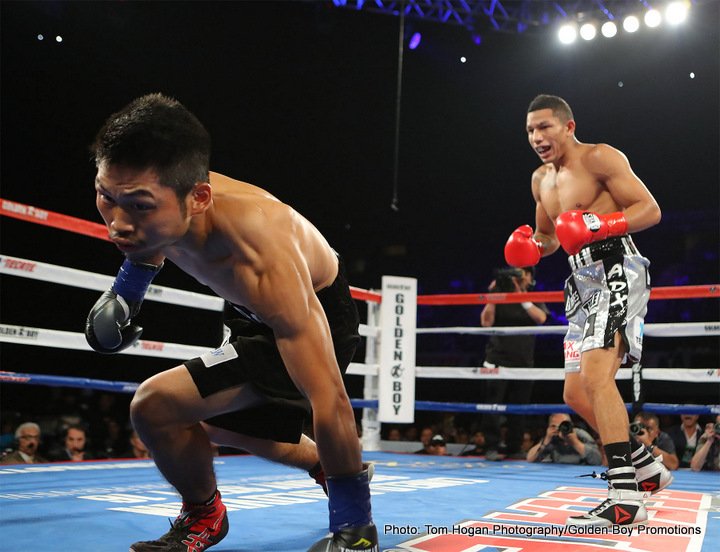 Sean Gibbons, manager of teak tough Mexican warrior Orlando Salido, has spoken to The Los Angeles Times about his fighter going up against countryman and reigning WBC super-featherweight champion Miguel Berchelt on December 9 – yes, the exact same night pound-for-pound stars Vasyl Lomachenko and Guillermo Rigondeaux fight.
And Gibbons got off a good line when speaking about the two fights and how they will compare: "It'll come down to, 'Do you want to see real boxing or ballerina boxing, two guys playing chess?" Gibbons asked in promoting his fighter's fight. It may or my not be a good question. In terms of blood and guts action, then yes, the battle of Mexicans with the crowd-pleasing styles will be your pick of the two fights. The again, if you like pure boxing, the clash of southpaws, the pair of them being dual Olympic gold medal winners, will be more your bag.
Really, both fights are worth getting excited about and in a way it is a shame they will go head-to-head on different TV networks on the same night. One thing though – we do know we will get a fight, a hard fight, when Salido goes in with the much younger Berchelt (there will be no dancing in this one, as Gibbons suggests).
But could this fight be a case of veteran Salido (the sole pro to have beaten Lomachnko of course) biting off more than he can chew at this late stage of his great career? Salido is 36 years old now (37 next month) and he is 44-13-4(31) as a pro. Berchelt is 25 years old (26 next month) and he is 32-1(28) as a pro. Salido can never, every be discounted or written off, but could this fight prove to be a classic case of the old lion taking on the young tiger and of youth being served?
Berchelt, big for a 130 pounder and taller and with a longer reach than "Siri," has looked great recently. "El Alacran" looked sensational in stopping common opponent Francisco Vargas (who drew with Salido in another war) to take the title via KO back in January and Berchelt boxed intelligently in decisioning Takashi Miura to retain in July. There are plenty of people who have Berchelt down as being the next Mexican star of the lower weight divisions.
But we are of course talking about Orlando Salido, one of the hardest, toughest, most stubborn, never-say-die fighters around today. Not only is Salido tougher than tough, he is also clever, full of tricks of the trade and he has fierce pride. One gets the feeling a fighter would have to practically nail Salido to the canvas to stop him. But age and wear and tear catches up with every fighter and it's possible Berchelt will be too strong, too powerful, too relentless and too young on December 9.
It's tough going against Salido, but my pick is for Berchelt to grind out a late stoppage win; perhaps one initiated by Salido's corner.