Bloodyelbow.com
By Nick Baldwin@NickBaldwinMMA
Ryan Bader made Bellator history on Saturday night.
"Darth" knocked out MMA legend Fedor Emelianenko in 35 seconds to win the Bellator heavyweight title, becoming the first fighter in promotion history to hold two belts at the same time. Bader is also the Bellator light heavyweight champion.
Bader vs. Emelianenko headlined Bellator 214, which took place at The Forum in Inglewood, California. The bout marked the final of the Bellator heavyweight grand prix, which kicked off just over a year ago.
Bader stunned Emelianenko with the first strike he landed — a left hook. After the Russian fell to the canvas, Bader followed up with a couple shots on the ground, and that was all it took to get the job done.
What was the highlight of the fight?
What more can you say about Bader? This is a man who left the UFC in 2016 as a free agent, signed with Bellator, and never looked back. Riding a seven-fight winning streak, this is the best Bader has ever looked. During his time in the UFC, he never fought for the 205-pound title, and he was looked at as the division's top gatekeeper — but not a legitimate title contender. Since then, Bader has improved his overall MMA game, particularly his striking, and is now a very well-rounded mixed martial artist. But more importantly, he's been given the stage necessary to really show what he has to offer. In the UFC, Bader was merely looked at as a stepping stone for rising fighters like Jon Jones, but fast forward to now and he's making history in Bellator. That showed in a big way when he knocked out Emelianenko on Saturday.
Where do these two go from here?
If you ask me, Bader can do what Bader wants at this point. As the double champ, he has more leverage right now than at any other point in his veteran career. Even he said he was unsure what his next move will be; he said in his post-fight interview that he'll have to sit down with Bellator brass to figure that out. Bader sounded keen on defending both the light heavyweight and heavyweight titles, but history shows that — in the UFC, anyway — most champ champs end up eventually dropping one of their two belts. I have no idea whether he'll end up defending both titles, or staying at heavyweight, or returning to light heavyweight — we'll simply have to wait to see what happens.
On the other side of the fight is Emelianenko, who had a two-fight winning streak come crashing to an end. Emelianenko has done it all in the sport and is widely regarded as one of the greatest fighters to ever walk the planet. Having said that, there is nothing left for "The Last Emperor" to prove, and it's time for him to finally hang his gloves up once and for all. (Unless Japan comes calling, then we can talk.)
Watch now, later, or never?
If you don't like seeing Emelianenko get blasted early, then avoid this fight at all costs. If you're down to see Bader take home heavyweight gold in stunning fashion, give this fight a watch if you haven't already.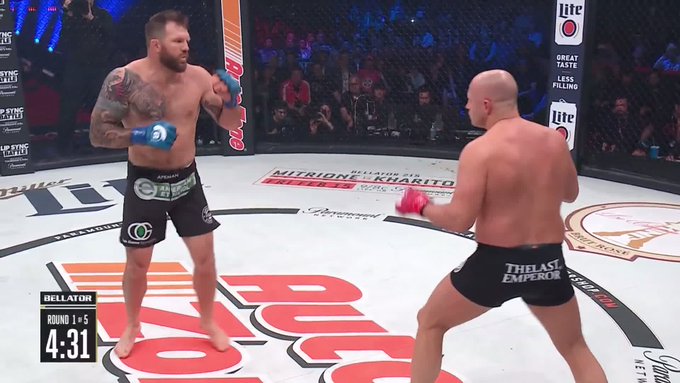 JUST LIKE THAT!!!! @RyanBader with the HUGE KO against Fedor Emelianenko!#Bellator2145,91911:37 AM – Jan 27, 20193,557 people are talking about this